INH Opportunities' User Guide
INH Mail
INH Opportunities introduces 'INH Mail', creating a central location for all of your correspondence concerning past and upcoming event involvements at a click of a button!
No more email bounces and incorrect addresses ever again - emails send directly to the correct Staff & Volunteer Coordinator who is managing your shift. As well as receiving a message to your INH Mail Inbox, you will receive a notication to your personal email that is linked to your profile.
If you are having difficulty with INH Mail, our support team can also be contacted at support@ineedhelpers.com
Accessing INH Mail
To access and respond to INH Mail messages, you will need to be logged into INH Opportunities and to have navigated to the 'INH Mail' tab found within the INH HQ Page. The INH Mail tab can be found by clicking on 'INH HQ Page' from the main menu.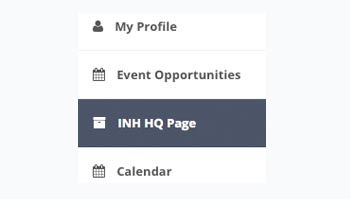 Once you've clicked on the 'INH HQ Page' above, you will be directed to a welcome page along with a sub-menu that contains all sections of the INH HQ Page. From this menu, you will be required to click on the INH Mail' tab to view your inbox, sent and deleted messages.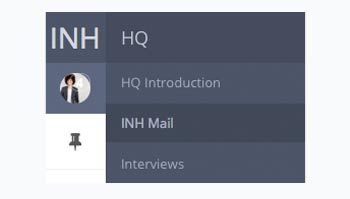 Composing A New Message
If you would like to.... t's really easy to get started on INH Opportunties, you have already done most of the work creating a profile! We encourage you to keep this User Guide handy and update your Profile as best you can before exploring the remaider of the web application.

Part 1: Select the relevant enquiry type for your message. This will ensure that your message is sent to the correct staff member.

Part 2: Enter in your subject just like you would for an email.
Part 3: Enter in your message, hit the 'send' button and await for a response.
Opening A Message (inbox)
INH Mail provides you with your very own inbox. Your INH Mail Inbox allows you to easily keep all correspondence regarding your event involvements in once centralised place. If you receive a new INH Mail message or a response to a message, this will be accessible from here.

From your Inbox you will be able to see all INH Mail messages recieved, sender's name, category (enquiry type), subject and date / time received. Simply click anywhere on the row to view the message's content and to respond.

Responding To A Message
To respond to an INH Mail message, you must open the message following the guide above and click on the reply icon at the top right of the message. Clicking on the reply icon will show a new text field and send button to allow you to respond to the message.
Your response will saved to your 'Sent' folder as well as included to the original message in a chat-like order. By keeping all corraspondance together,if you send another reply, your previous message will still contained within the mesage.

Note: It's important to remember, although you will receive a notification email to your registered email account, to respond to INH Mail messages you will need to login to INH Opportunities.
Contact Us:
The friendly I Need Helpers' team is always just a quick INH Mail or phone call (03 9804 5816) away! If you have any account queries or issues we look forward to hearing from you. INH xxo